---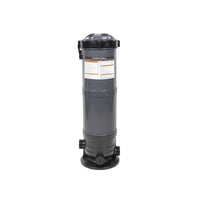 The SURE-FLO 70 SQ FT Cartridge Filter System without the pump or base is perfect for pool owners who want to install a high quality filter cartridge system to integrate with other pool pumps.
The new Sure-Flo filters are designed to capture debris and clean pool water with consistent performance and energy efficiency
Includes a 70 square foot filtration area, which is ideal for pools up to 19,000 gallons.  Single-Cell filter design makes rinsing and washing the filter fast and simple.
The filter tank top cover features a tightening ring and latch locking system to keep your system air tight, but allow quick filter changes.  Also includes a pressure gauge and a release valve.
Heavy duty design: filter tank, pump and components are molded with UV resistant materials that are built to last.
Includes: filter tank, cartridge element only.